Experience The Shade Me Today Difference
Quality shade solutions and professional installations with the customer service that you deserve.
Ready to get started? Call (469) 334-3884
A Shade Me Today representative will be happy to answer your questions and provide a FREE no-obligation estimate.
3 Easy Steps To Your Shade Solution
In-Home Consultation. A Shade Me Today representative will first listen to your plans and desires for your project space, then learn about your needs and expectations, and finally, discuss your custom shade solution and measure for an exact fit.
Design Your Solution. An expert shade team will design and create your custom shade products and structures to the specifications of your project space.
Professional Installation. Shade Me Today's professional contractors and installers will precisely construct and install your custom outdoor shade solution and explain proper care and operation.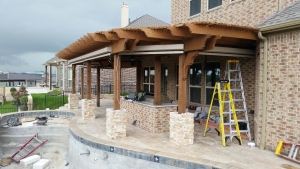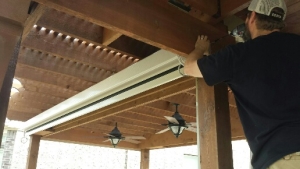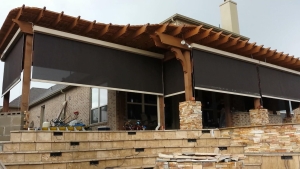 The Shade Me Today representatives were professional and easy to work with. They communicated throughout the entire process and then delivered and installed our shades ahead of schedule. I highly recommend them… Best investment ever!
The guys at Shade Me Today educated me about outdoor shade systems and helped me understand my options. Then they delivered and installed just as we discussed. I can now enjoy my patio throughout the day.
We spent over a year trying to find a reputable company to help us build out a patio area and install some outdoor shades and an awning. We finally selected the guys at Shade Me Today and we are thrilled with results. We would recommend these guys to anyone.
There was no sales pressure whatsoever and Karlis did a great job installing our new shade. They are true professionals. The end result is the outdoor shade we needed to enjoy our patio. We highly recommend them.
From planning the project until the final product, it was a pleasure working with Karlis and Jeff. They were professional, responsive, and prompt. The meticulous work shows in a wonderful room. The covered patio with screen creates an aesthetically pleasing and highly functional living space. We could not be more pleased and highly recommend them to others.
From the first time we met with Karlis and Jeff, they were honest and genuine with every step in the process. We now have seven shades that keep us cooler and allow us to enjoy our pool/patio area during the extreme heat and sun. The shades and installation are phenomenal!
Karlis was very helpful and patient in teaching us about solar shades. He came on site when he said he would and finished the job within two hours. We started enjoying the shade immediately. Shade Me Today was competitive in their price and did a quality installation. I'm comfortable in recommending them to my friends and family.
Shade Me Today guys are awesome. They delivered what they promised, the quality appears to be first class we were so happy we asked them to quote additional work. The day after the installation was completed our friends came over and asked for the contact information so they could get the guys out.
Ready to get started? Call (469) 334-3884
A Shade Me Today representative will be happy to answer your questions and provide a FREE no-obligation estimate.